---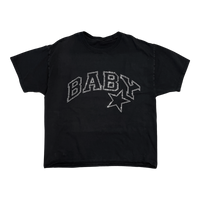 {BABY} SHIRT
ring-spun cotton.
restock item from oct2021..
worked by hand. 
DELIVERS WITH USPS PRIORITY MAIL ASAP WITHIN 2 WEEKS:)<3
item pictured is size X-LARGE.
WASH INSTRUCTIONS: 2021**
WASH RHINESTONE ITEMS INSIDE-OUT & ON COLD.

HANG DRY IS BEST OR DRY ON LOW HEAT.

I'VE OWNED AND WASHED MINE NORMALLY AND DRY ON HIGH HEAT FOR A YEAR+ AND ALL MY HOODIES ARE FINE:)
EMAIL: info@coldstar.net
if you need to change any info on a purchase, please email

your order number

&

questions

ASAP to info@coldstar.net
SHIPPING: DELIVERS IN 2-3 WEEKS
ALL ITEMS TAKE ONE/TWO WEEKS FOR PRODUCTION AFTER STORE HAS CLOSED.

LESS THAN ONE WEEK TO SHIP.

MOST ORDERS ARE DELIVERED WITHIN 2-3 WEEKS ASAP.
TERMS: (& INTL.)
ALL SALES FINAL. NO CANCELS OR REFUNDS ON ANY ORDER. IF A WRONG OR DEFECTIVE ITEM IS SENT, I WILL REPLACE THE ITEM AT NO ADDITIONAL COST:)!

MY PRODUCTS ARE LIMITED EDITION, WHICH WILL NOT ALLOW YOU TO EXCHANGE OR RETURN AFTER ORDER HAS BEEN COMPLETED. DOUBLE CHECK WHEN PLACING ORDERS.

CUSTOMS/TAXES: Any import duties and taxes are charged once the parcel has reached the destination and the recipient of the parcel must pay these charges!